Wild Rice Barron - Skoe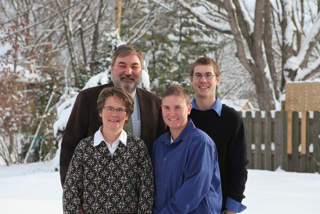 2 lbs lean ground beef
1 can (8 oz) sliced mushrooms, drained
1/2 cup chopped celery
1 cup chopped onion
1/2 cup butter
2 cups sour cream
1/4 cup soy sauce
2 tsp salt
1/4 tsp pepper
6 cupped cooked wild rice
1/2 cup slivered almonds fresh parsley, garnish

Preheat oven to 350°F. In large skillet brown beef; set aside. In small skillet, sauté mushrooms, celery, and onion in butter 5 to 10 minutes. In a large bowl, combine sour cream, soy sauce, salt, and pepper. Stir in wild rice, beef, vegetables, and almonds (reserving a few for garnish). Toss lightly. Place mixture in a lightly greased 3-quart casserole. Bake 1 hour, stirring several times during baking. Add more water if necessary. Season to taste. Garnish with reserved almonds and parsley. 10-12 servings.

Rod Skoe of Clearbrook, MN, owns and operates Clearwater Rice Inc., one of the largest wild rice farms in Minnesota.

Clearwater Rice, one of the first wild rice farms, was started in 1967 by Rod's father Stanton and his uncles Ray Skoe and Don Barron. Through Ray's engineering, Don's meticulous agronomics, and Stanton's machinery knowledge, Clearwater Rice became one of the premier wild rice farms. The farm started modestly with approximately 300 acres under cultivation.

Rod took over the family operation in 1986. His son Patrick returned to the farm this summer and represents the third generation of Skoes farming Clearwater Rice. The farm now has about 2,500 acres of developed paddies and 800 acres of trees and wildlife habitat. The farm rotates wild rice with red potatoes and soybeans.

Rod grew up in Kelliher, MN, and received a Bachelor of Arts degree in Psychology and Sociology from Augsburg College. He served as the Minnesota Cultivated Wild Rice Council chairman for many years.

In addition to managing Clearwater Rice, Rod also serves in the Minnesota State Legislature. Rod was elected to the Minnesota House of Representatives in 1998 and was subsequently elected to the Minnesota Senate in 2002 where he continues to represent the constituents of Minnesota's 2nd District.

Rod and his wife Sarah have two grown children Mary and Patrick.
Recipe compliments of the Minnesota Cultivated Wild Rice Council
Return to search page