Chicken Grape Wild Rice Salad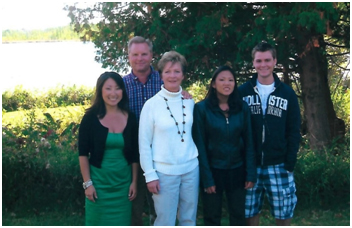 6 cups cooked wild rice
4 chicken breasts, cooked and cubed
1 bunch green onions, thinly sliced
2 cans (8 oz) sliced water chestnuts, drained
3 cups halved seedless green grapes
1 cup cashews

Dressing
1 cup mayonnaise
1 cup milk
1/3 cup lemon juice

In large bowl, toss salad ingredients, except grapes and cashews. Add dressing; toss. Just before serving, fold in grapes and cashews.

10 servings.

Ken Gunvalson, while still in high school in the fall of 1971, was hired by his brother John and John's partner, Paul Imle, to help develop 110 acres of land into wild rice paddies north of Gully, MN. A few years later, brothers John, Jim, and Ken together purchased 160 acres and began developing their own rice paddies. In the years that followed, they continued to buy land for development. In 2000, Ken and his brothers were presented with the opportunity to purchase Paul Imle's interest in Gunvalson & Imle Farms. With that acquisition, Gunvalson Bros. became Gunvalson Farms. Gunvalson Farms now encompasses approximately 4,500 acres on which they produce wild rice, potatoes, soybeans, and wheat.

Ken has been privileged to serve several terms on the Minnesota Cultivated Wild Rice Council Board of Directors. Participation on the Council has allowed him to work with the other wild rice growers in the state on issues that affect wild rice research, production, and marketing.

Ken and his wife, Cathy Jo, have 3 adult children, Paige (Maple Grove, MN), Carly (Bagley, MN) and Joe (Robbinsdale, MN). Their favorite summertime wild rice recipe is Chicken Grape Wild Rice Salad.

Recipe compliments of the Minnesota Cultivated Wild Rice Council
Return to search page